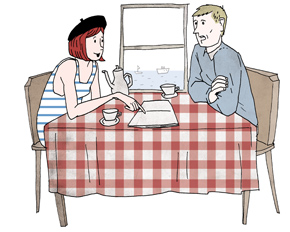 Business people
People moving to France
Adults learning for leisure
Exam preparation (GCSE, A level, DELF, DALF etc) 
All levels from beginners to advanced
NEW Skype teaching
Private lessons are the ideal way to obtain complete attention from your teacher and to ensure all of your needs are met. Whether you need to study grammar, improve your pronunciation, want to study for leisure or business, I can tailor my lessons to your unique needs and interest, choosing appropriate material and supporting your learning whatever your age, ability and level. If you are planning to move to France, I can help you dealing with the different issues you are likely to encounter. If you are preparing for an exam I will focus on the syllabus. If you are learning for pleasure, I will follow your interests, whether they are cinema, politics or fishing. I will share with you my knowledge of French culture and current affairs.
I also teach small conversation groups which is a lovely experience offering social interaction while still allowing each learner to get my full attention. I usually teach in my home in Kemptown (Brighton).
A typical lesson includes the study of pronunciation and grammar as well as topics in which students learn vocabulary and are encouraged to hold a conversation in a safe environment. Lessons for beginners focus on basic language skills and role-play preparing them for travelling in France, and appropriate resources can be found in textbooks and in online material. For improvers I use audio-magazines for learners of French. For more advanced learners, I employ "authentic" material like songs, films, novels or articles about current issues while exploring more complex aspects of French grammar and phonology.