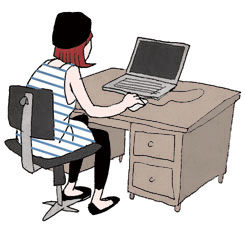 In addition to teaching French, I work professionally as a translator having initially trained in translation at the University of Westminster in 2001. I have worked for high profile commercial clients in addition to numerous private individual clients.
My background as a classically trained musician in addition to my subsequent studies in medicine, yoga, anatomy, physiology and pathology have enabled me to acquire a wide technical vocabulary allowing me to take on translation commissions in these specialist subject areas as well as standard business, legal and domestic related translation work.
My most recent translation commissions were for the film industry, working on arts films for public release and also work for a documentary screened on BBC. I have worked on business translations for American Express and medical reports for Bupa. I am also often asked to translate documents related to properties for English owners of French properties.
Please feel free to contact me if you require any assistance with a French document.
You can leave a message on my Contact page and I will come back to you as soon as possible.
Phil Grabsky, Series Producer and Director
« We have used Muriel on many occasions to translate interviews for our films, especially our series Exhibition on Screen. We always call her first: what better recommendation is there? »
Martin Webb, business man, presenter of Channel 4's Risking it All
« Muriel's translation into French for our holiday website was accurate, professional and very speedy. We found Muriel a pleasure to deal with - she's very professional and understands the needs of a small business. Her translation has attracted lots of French clients to our site that we might have otherwise missed. Overall, a great service offered at a cost effective rate. »
Rohan MacDonald, student in Sciences Politiques, Paris
« Muriel has the rare kind of bi-lingual grasp on both the French and English languages which can only come with living abroad; a French woman in the UK for the last 20 years, she has an understanding of English which is nuanced enough to be able to translate a wide range of documents and texts. She helped me with complex legal, governmental, medical and notarial documents, producing high-quality, professional translations of English documents into French. Highly recommended! »
Kate Hunt, Trust Consultant Psychologist
« Muriel's translation of all the paperwork that comes with owning and maintaining a house in France, from the translation of and the writing of official letters to the translation of bills and notices of various kinds was simply brilliant. It was particularly helpful when it came to dealing with all the legalities in selling the property. I would highly recommend Muriel without hesitation! »
Natasha Staples, coach and actress
« Muriel gave me some invaluable assistance with a translation regarding my imminent move to France. I highly recommend Muriel for her patience, eloquence and witty humour! »