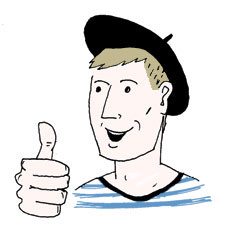 Phil Grabsky   Series Producer and Director
"I have the great pleasure to enjoy the teaching of Muriel. She catered to my needs and was flexible, patient and diligent. I was able subsequently to speak to audiences and conduct filmed interviews. I certainly hope to continue my lessons with her"
Simon Monk  Project Manager, DipSurv', Lewes  
"Muriel Jacquinet has distinctive and unusual methods of teaching. Rather than the rote learning from dusty grammar books, which was my school experience, she mixes many methods of learning changing at intervals within a single lesson. Her lessons are always fresh, informative and interesting. As someone with no natural aptitude for languages I have been pleasantly surprised to find that I have made very significant progress in dealing with the French language." 
Kevin Nellies   Head of communication
"Muriel is a wonderful teacher and being French she has a great love of her country and her culture and passes this enthusiastically onto her students.  I'm very much a beginner and Muriel has shown great patience with me as I go about mangling the language of love.  Lessons consist of some grammar, conversation and textbook based exercises - with an "obligatory" French song thrown in at the end.  I will feel very sad to finish my lessons with Muriel and move to Paris, but after two months working with her I have the language foundations to build on and an interest in French music and cinema to sustain. As a friendly face, who knows her stuff and who makes you feel as though this is not just another job, I can wholeheartedly recommend Muriel as an excellent teacher."
Christopher McGarry  12 year old, private student 

"I like Muriel's style of teaching because she is always happy to explain, answer questions, even obvious ones, and generally help you learn, which is good, as I can learn a lot. I will often ask an obvious question, and she will answer immediately rather than make you guess, which I like as having to guess frustrates me. She is also happy to accept that you can't do something, and will happily leave it to later. I have weekly 1.5 hour lessons and enjoy them a lot!"
Susan Yates   Deputy Head Teacher of a special school 

"As a teacher myself, I recognise in Muriel an unusually gifted teacher.  She is able to combine her interest in grammar and phonology with a remarkable gift of insight into the interests and needs of her pupils.  Her lessons are extraordinarily carefully prepared to focus both on her students' needs in language but also on their interests. Her teaching about language is embedded in French culture, arts and literature." 

Charlie Rose, student, 19 years old
"Muriel is a very patient teacher and if something is not understood she is more than happy to explain. I enjoy the way Muriel uses a range of resources to help make the learning of French easier. Methods Muriel uses such as using extracts from films and songs from French singers such as Serge Gainsbourg and Edith Piaf not only helps to exercise your French language skills but also provides an insight into French culture.I am more than happy to recommend French lessons with Muriel to anybody of any level."
Morag Mc Call-Smith  Retired French teacher 

"Muriel's love and knowledge of her native language and culture are reflected in her lessons.  They are meticulously prepared, perfectly tailored to individual needs and, above all, enormous fun."
Liz Tyrell    English teacher, Hove  

"I have been attending Muriel's classes for two years now and feel that I have benefited greatly. Not only is it so beneficial to have a native speaker like Muriel but, as a teacher of language myself, I appreciate the variety of material and method that she brings to the classes. She is always well-prepared and combines her sound awareness of language skills and grammar with an enjoyable and stimulating cultural input. We study a range of French films and, drawing on Muriel's own extensive musical background, French singers. We are encouraged to read background material and prepare presentations on the current topic and meet outside the class for cinema visits or coffee. Muriel ensures that atmosphere in the group is fun, supportive and friendly. Every student is an individual, their specific needs are addressed and their contributions valued. She takes into account the views of her students. An inspiring, enjoyable and stimulating course." 

Dr Maggie Paun   Sociologist, Brighton  

"I am delighted to say that I have benefited so much from Muriel's courses over the last 2 years.   The combination of grammar exercises, pronunciation and French culture has been exactly what I needed and hoped for when I saw the advertisement and when I am in France I have noticed a great improvement in my ability to converse in French and to understand radio and TV emissions.   Muriel always seems to prepare so thoroughly with generous handouts that make it easy for us to access reference material and your great experience of teaching is evident as the lessons are always very varied in content and structure and provide an opportunity for everyone to participate.  And very enjoyable! The atmosphere is serious but friendly and I have made a number of good friends with whom I have maintained contact.   Other friends to whom I have recommended her courses have not been disappointed and are now also very much enjoying practising and improving their French with her help." 

Helen Hudson   Artist and retired lecturer at Brighton University  

"Muriel's classes are a delight - relaxed and fun but stimulating, rigorous and hugely informative.  I have learned more about French culture, accurate writing and pronunciation in six months than I ever learned at school or in any other adult classes.  Especially welcome are the opportunities for reading a wide range of sources, giving short presentations and engaging in genuine conversations and debates. " 
 

Nadia Rowlinson   Business analyst, Brighton  

"Muriel's innovative use of resources and materials for her classes make learning interesting and topical. Her specific tailoring of lessons for the adult learner ensures learning is relevant and rewarding.  Her approach to learning combines hard work with fun in a relaxed environment. I have learnt a great deal from Muriel in terms of grammar, everyday language and phrases, and pronunciation.  Her attention to detail and attentiveness in correcting my spoken French has meant that every lesson with her has been both productive and progressive.  I would highly recommend her to any learner of French at any level." 

Carys Glaberson   PA, grandmother, wife and housewife  

"I love the emphasis that Muriel puts on speaking French with the correct pronunciation. This gives me a huge buzz. The classes are very informal based on topics from French films, French songs and everyday conversation so that we have a good mix of French culture, spoken and written French and, of course, grammar. C'est parfait! »
Sissel Ellingsen    Retired Modern languages and special needs teacher 

"I have had the pleasure of taking part in French conversation classes in a small group with Muriel Jacquinet this past academic year.  As a modern languages teacher myself I appreciate impeccable preparation and have been very impressed with the way the lessons have been structured. The subject matters have been interesting and we have all been eased out of our comfort zones through little presentation projects given us...thus necessitating some private study at home. Exactly what we needed! We all come to the sessions with subject specific knowledge...a perfect platform for discussion! The lessons themselves have been very interesting...with a good mix of video clips and music to complement instruction and inter-pupil conversation. Muriel is aware of everybody's individual strengths and weaknesses and a great facilitator!  She directs the conversation with the skill of a musical director! 
The follow-up after lessons is as impressive as the rest.  We are sent emails with reminders of topics covered and internet links for further research, as well as preparation for the session to follow.  All participators' views are always taken into account when we move from topic to topic. Nothing is rigid or set in stone. In all, I cannot recommend Muriel highly enough.  I feel certain she will teach French equally well at all levels.  Her knowledge and enthusiasm is inbounding.  I shall look forward to next year's sessions!!" 

Anne Campbell   Lecturer in Music and Education at Chichester University,  

"I must commend Madamoiselle Muriel Jacquinet in every way for her comprehensive approach to teaching her native tongue. The lessons have been meticulously planned to include topical points of interest such as the changing political situation as well as the changes in society surrounding us both here and on the continent. The mainstay of her approach however is to introduce cultural awareness of French cinema, theatre and music.  A particular area is chosen and with well researched information in the form of handouts, the students are able to prepare conversations with each other, re-inforcing the appropriate vocabulary which has been previously introduced. Basic grammar and vocabulary are also an essential segment of each lesson, re-visiting areas which require extra attention. M.Jacquinet provides plenty of opportunity for students to extend their skills with suggestions for follow-up and preparatory work. Enjoyable sessions, professionally prepared and executed."
Nadine Thompkins   Retired Marketing and Publications Manager  

"I really enjoyed Muriel's French classes.  Full of fun but also covering a range of exercises to help improve my French, both spoken and grammatically.   Friends have noticed that I have started to use the right tenses now!  The eight week course is very good value and it was very interesting learning about Coco Chanel the fashion designer and watching the movie and also learning about the life of the famous French singer Charles Trénet and ending each lesson by singing one of his songs. What a good way to learn a language! Thanks for the experience! I look forward to the next course with anticipation." 

Paul G    IT Director, Lewis  

"After a break of 30 plus years from studying French at school Muriel's lessons are brilliant. Her teaching style is excellent and the lessons are properly planned. Apart from traditional teaching methods of speaking and reading Muriel uses films and music to help improve one's
understanding of French as spoken by the French. I heartily recommend her if you want to improve your French language skills." 

Lynda Van Gend  Secretary  

"I really enjoyed the Course. It was informative and entertaining. It also helped me to 'brush-up' on particular areas that I needed to re-visit. " 

Amanda Wilkie   Film producer 

" I have only just started lessons with Muriel but I am really enjoying improving my French whilst at the same time learning a little about French culture. " 

Matthew   Local government policy officer 

"Studying French song and film with Muriel has been the most fun way I know to improve my French grammar and vocabulary. I'm part of friendly small group and we've done things like discuss fashion and sung." 

David Hadrill   Vetenary surgeon
"Muriel has been teaching me French since 2009.  She is a brilliant teacher who takes care to understand the learning needs of her pupil.  She prepares thoroughly for lessons, gives 'homework' if you want it and enlivens the subject with her comprehensive knowledge of French music and French cinema.  However, she is also helping me study for a French exam (DALF, Diplôme Approfondi en Langue Française).  It has been a privilege to learn from her one-to-one. She is really rather wonderful:  highly recommended."     
Janis Winkworth  Retired school governor 

"I have studied with Muriel for nearly two years and found her lessons well planned,  interesting, thought provoking and useful. I have enjoyed watching a variety of French fillms and now think much more about my pronunciation." 

Ian Grace   Housing manager
"I started taking private lessons with Muriel as I wanted to supplement my examination studies with some more intensive study with a native French speaker. I was especially attracted by Muriel's emphasis on using French films and music as study material as I have a particular interest in these topics (although she will happily tailor the lessons according to individual students' interests). I've found the lessons to be stimulating and they're held in a relaxed and friendly atmosphere and I've found myself approaching my studies with a new level of enjoyment since I started taking private lessons and I'd strongly recommend her as a French tutor!."
Bill Henson    Classroom student  

"Muriel has wide talent and impressive variety of material. She transcribes extracts from films and encourages us to play-read the script before animating conversation.  Famous songs of which she supplies lyrics are another important part of the course. Sometimes she inspires us to sing them and since them I have felt better at sounding French.  I recommend that you do not look elsewhere if you agree that liveliness is the best part in learning."